Rockstar Interview
ISER is a Piece of software that is the heart for the Market Risk department. All data is pumped by ISER to the right places. Something comes in from one vendor, then various transformations and/or calculations are run on it, and then it goes on to the next system that the Market Risk Reporting & Controlling people work with. This includes its own front-end where all flows and results are made visible and can be corrected if necessary.
"The business was extremely satisfied with the front-end side."
Dirk van Bergen, .NET Engineer at Team Rockstars IT
WHY DID YOU CHOOSE THIS PROJECT?
ABN Amro as an employer is very highly regarded, so I wanted to experience that in person. In addition, the location was super attractive to me.
WHAT ARE YOU MOST PROUD OF WITHIN THIS PROJECT?
My work on the front-end side that the business was extremely pleased with and expressed (repeatedly).
What techniques tooling did you use?
It uses .Net Framework 4.0 and 4.5, the whole thing runs as a Windows / WCF service. The front-ends (2) are ASP.Net and ASP.Net MVC 5.
WHAT DID THE PROJECT DELIVER TO THE TARGET AUDIENCE/USER?
Greater understanding of, and control over, the data available within the Market Risk department. A lot more centralized now and more manageable.
WHAT DID YOU LEARN IN THE PROJECT?
Working with an off-shore team with completely different time zone and culture is quite difficult.
WHAT MADE TEAM ROCKSTARS IT-WORTHY?
It began at a time when the bank is changing rock-bottom in terms of IT set-up. A lot of ambiguity about processes and how to do what now. That's where you as an IT Rockstar have to be the rock for both the team and the (internal) customer. The data that is worked with and passed on is also very important for the bank's risk coverage so it really needs to be done very carefully.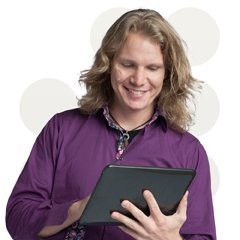 Want to know more about dirk's experience at waternet?