she's an it rockstar
It's time to change the Dutch tech world. The balance between male and female developers is completely out of balance. That is why we are joining hands and trying to make the IT world more attractive to women, so that even more women can say, "I'm an IT Rockstar!"
technical courses
According to VHTO, only 15% of students taking technical courses in the Netherlands are women.
technical profession
CBS figures show that women make up only 16% of those employed in technical occupations.
11%
Women in senior positions
software engineering
According to a report by KPMG, only 11% of senior software engineers in the Netherlands are women.
equal pay for women and men.
It is important that women earn the same pay as men in the software engineering industry because it is a matter of fairness and equal treatment. We want more women to choose careers in technology, so we make sure our women never have to worry about this.
We believe that attracting and retaining talent from diverse groups is essential to foster creativity and innovation in the industry. By addressing wage inequality, together we can create an inclusive work environment where everyone has equal opportunities to grow and contribute to society.
the domino effect of female power.
The world needs female software engineers and we can tell! It is not only important, it is crucial that more women enter IT. Why?
Diversity leads to innovation. Women bring fresh ideas and perspectives, adding value to any team. As a female software engineer, you are like a magic ingredient that completes every recipe.
In addition, women tend to be stronger in communication and collaboration. As a female software engineer, you build bridges, not only in the code, but also between team members. By doing so, you ensure a stronger team and better results.
And let's not forget that as a female developer, you can be a role model for other women and girls interested in technology. By showing that women can be successful in the IT world, you encourage others to also take the plunge and pursue their dreams. This is how you create a domino effect of female power in the IT sector.
flexibility is a must.
We know that flexibility and understanding are essential to happy employees. Our highly qualified female developers often reach a stage in life where they are looking for a better work-life balance.
That's why we offer as much comfort as possible in this: from a comfortable place to pump, an adapted (part-time) work schedule to creating a positive and supportive work culture.
We now have many female engineers working with us, sharing experiences about working as a woman in the tech sector. We always listen to these groups and involve our female power women in many fun initiatives, such as our "She's an IT Rockstar" steering committee.
Your contribution to the tech community.
At Team Rockstars IT, we love technology, innovation and the power of diversity. Our Women in Tech Community is a place where we encourage women to make their mark in the tech world. Whether you are a seasoned professional or just starting out, your contribution is valuable! Together we are building a vibrant and diverse Women in Tech Community!
How can you share your passion?
Want to show your creative side?
Magazine
stories of leading ladies.
We are committed to attracting more women into the IT sector and see tremendous value in gender collaboration. To initiate this change, we created a magazine in which women in IT, including Sahar Yadegari and our own IT Rockstars, share their experiences.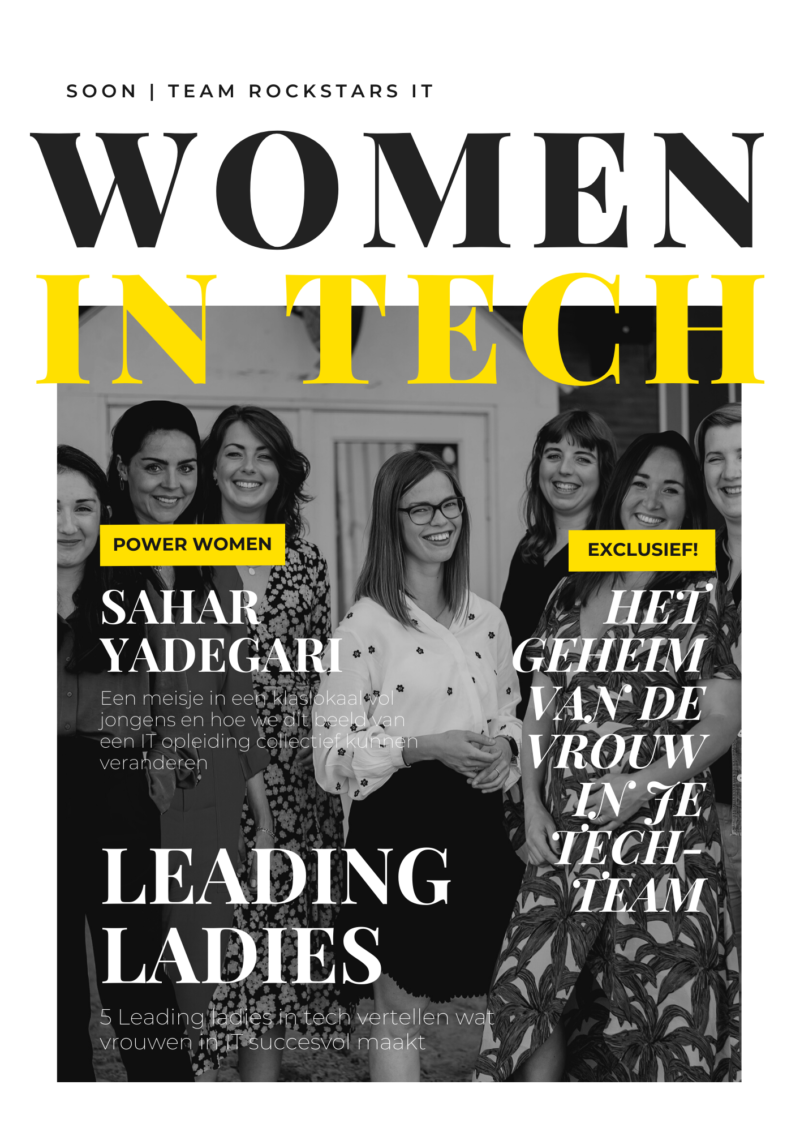 magazine request
Would you like to receive the magazine? Then quickly fill out the form!
vrouwen in tech
KNOW YOUR WORTH.
There should be no distinction in salary between men and women. At least with us, that's certainly well taken care of. At Team Rockstars IT, women always earn at least as much as men. Want to know what you should earn as a female developer? Then fill out our market value check. You will receive your market value from us within one business day at the 06 number you provided. If you wish, we will remove your number afterwards.
"*" indicates required fields