Rockstar Interview
Waternet is the only water company in the Netherlands that takes care of the entire water cycle. They provide safe, clean and sufficient water. In nature and for drinking. The company is in the constant state of change to improve itself. IT Rockstar Dirk is collaborating on a project in the middle of this. The challenge? Creating a product that makes the people within the company's (work) life easier and more enjoyable.
WHY DID YOU CHOOSE THIS PROJECT?
Because for me it's 15 minutes by bike! In addition, it is also a company that is in a constant state of change to improve itself, and the project I am working on is in the middle of that. I enjoy doing my part in that. During the job interview I had an incredibly good click with the people on the other side of the table, one of them had been in the same elementary school as me, a year below me so it was soon sociable! The project being worked on by this team is also right up my alley. Creating a product that makes the people within the company's (work) life easier and more enjoyable. In this case, even in the broadest sense. Unlike the Inland Revenue, this team has an (almost) free pass to make everything easier AND more fun! All in all, an improvement over where I came from on every conceivable level so that was an easy and resounding "YES!" from me.
WHAT ARE YOU MOST PROUD OF WITHIN THIS PROJECT?
That in a reasonably short time we are the fastest innovating team within Waternet with a CI/CD pipeline that is in good shape and allows us to get from development to release very quickly.
What techniques tooling did you use?
We work with a CMS called Episerver. That runs on Microsoft Azure and uses Elastic Search. For the front-end, we use VueJS.
WHAT DID THE PROJECT DELIVER TO THE TARGET AUDIENCE/USER?
Knowledge sharing among colleagues and a customized social platform where ups and downs are shared. We also have an excellent and ever-expanding "Enterprise search" through which all information is accessed from a central point. Although the organization is still searching for a good form, and it may always be dynamic, this is clearly shown to employees so they always have an understanding of who works where, how to reach them and what for.
The many different sources of information from such a large company are indexed by our search engine, making it easy to find the right information wherever it comes from. This eliminates the need to learn exactly what is stored in which system; we take care of that. Finally, we set it up as an internal social network where people get to know their colleagues better, and the conversations that sometimes take place under news items from within the organization are a joy to read every day as we start the day.
WHAT DID YOU LEARN IN THE PROJECT?
I have learned a lot from CI/CD self-control and also in terms of front end development with VueJS.
WHAT MADE TEAM ROCKSTARS IT-WORTHY?
The freedom I have in this project and in the process the impact we have on the daily work of all employees.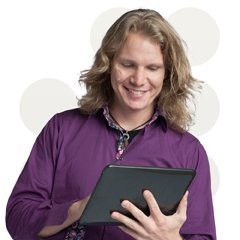 Want to know more about dirk's experience at waternet?