high it
How does society, lack of role models and being among the minority in tech studies affect young girls' choice of careers in tech? We would like to invite you and your daughter, niece, neighbor girl or acquaintance from 12 to 18 years old on July 1 to learn about IT.
you're invited.
We strive to create a great work environment for the next generation where diverse teams, equal opportunities and being able to do what you love contributes to your job happiness. Society's influence, lack of role models and being among the minority in tech studies mean that young girls are not encouraged to pursue careers in tech.
We would like to invite you and your daughter, niece, neighbor girl or acquaintance aged 12 to 18 on July 1, 2023 to learn about IT.
program
Working in IT, social impact and prejudices. How do young girls look at this?
How you as a parent, uncle, aunt or family friend can support young girls in their career choice.
Active workshop introducing programming
Time to chat over a cup of tea or coffee and some goodies.
TikTok workshop how to use the newest features and increase your reach.
technical courses
According to VHTO, only 15% of students taking technical courses in the Netherlands are women.
technical profession
CBS figures show that women make up only 16% of those employed in technical occupations.
11%
Women in senior positions
software engineering
According to a report by KPMG, only 11% of senior software engineers in the Netherlands are women.
sara dol – special guest.
Sara Dol is known for the clips she created on TikTok and predecessor musical.ly. She achieved one million followers in June 2018 and has over 2.6 million followers in May 2023, making her one of the largest Dutch TikTokkers anno 2023 based on the number of followers achieved.
Making the videos seems "simple" on the surface, but secretly there is a lot involved. Let alone what code exists in the background of apps like "TikTok. Sara takes the girls attending our High IT into the world of social media and shares her secrets on how to create the best social content.
maaike omta – special guest.
Maaike is our Rockstar developer on heels! This power woman regularly gives talks and presentations and knows what hard work in the tech world means.
Staying yourself and being confident in your knowledge and abilities are a must according to Maaike to succeed in the tech world.
Magazine
stories of leading ladies.
We are committed to attracting more women into the IT sector and see tremendous value in gender collaboration. To initiate this change, we created a magazine in which women in IT, including Sahar Yadegari and our own IT Rockstars, share their experiences.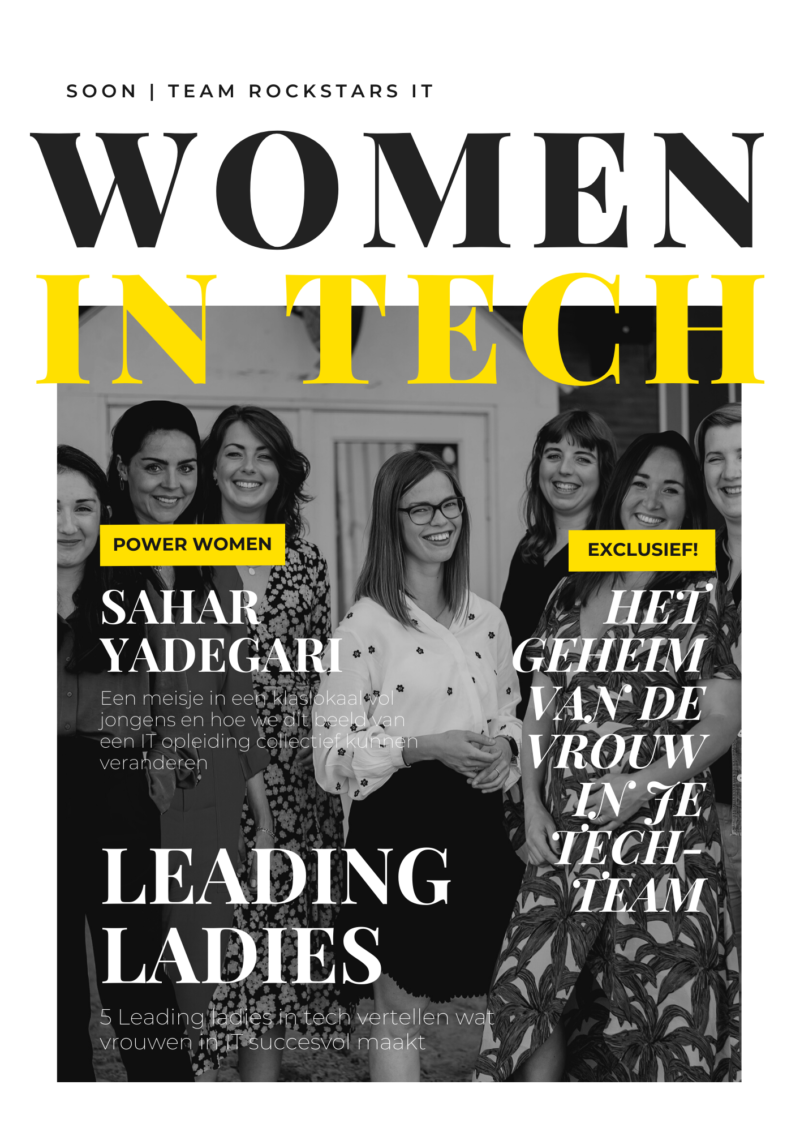 magazine request
Would you like to receive the magazine? Then quickly fill out the form!
vrouwen in tech
KNOW YOUR WORTH.
There should be no distinction in salary between men and women. At least with us, that's certainly well taken care of. At Team Rockstars IT, women always earn at least as much as men. Want to know what you should earn as a female developer? Then fill out our market value check. You will receive your market value from us within one business day at the 06 number you provided. If you wish, we will remove your number afterwards.
"*" indicates required fields